HydroForce Gekko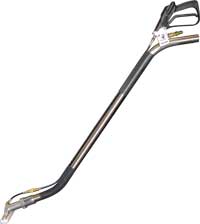 Works well with any kind of truck mount or portable extractor.
The HydroForce Gekko hand tool blasts out high-pressured water using an innovative brand new spray jet that generates an incredibly strong spray to clean-up some seriously soiled grout. Could be utilized with any pressure level between 100 psi to 2000 psi. It is mainly used to work on corners & edges as being a detailing tool . The wand and three special Gekko hand tool heads can be purchased separately. – *5 1/2″ original head is included.
AR54 Retail Price: $344.00 Rotovc: $312.55

HydroForce Gekko 14″ Brush Head
Ideal for cleaning vulnerable hard surface types whenever a brush head's agitation is needed.
AR54H Retail Price: $214.00 Rotovac: $193.80


HydroForce Gekko 14″ Squeegee Head
Built to clean bumpy surface types and also whenever extreme water removal is required.
AR54E Retail price: $207.00 Rotovac: $188.58


Gekko 5 1/2″ Original Head
– INCLUDED WITH GEKKO
An effective tool to work on edging pieces and also small spots. Incredibly helpful whenever extra power is required directly on a heavily dirtied grout.
AR54D Retail Price: $145.00 Rotovac: $132.05


Stainless Steel Gekko Wand
This instrument could be utilized together with any one of the three Gekko heads.
AR54A Retail Price: $228.85 Rotovac: $208.05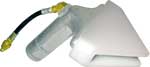 Gekko Edge/Corner/Coving Tool
With just 1 easy move, this piece of equipment can simply clean coving, corners, and also edges flawlessly. Also use the built-in cover to clean the floor edge.
AR54C Retail Price: $208.00 Rotovac: $189.95
Request More Information: