King Cobra 1200
Dual-Surface Cleaner

Carpet / Upholstery


Hot Water Extraction

Hard Surface


Tile and Grout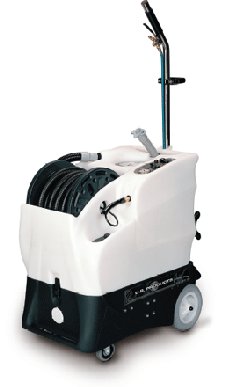 The hottest new technology from the King Cobra Series offering a unique dual surface concept. Forceful 1200 psi designed for hard surface area cleaning like tile & grout, or change to hot water, rapid 212° F for carpet cleaning with 150 psi. Auto-fill using power priming process, chemical metering as well as auto dumping get the King Cobra 1200 simple to use and also effective.
Patent-pending, integrated 25' hose reel delivers simple hose control. The wand-holder chemical storing system as well as huge transport wheels provide effective, single person transport. When it comes to performance, flexibility and also comfort, King Cobra 1200 is an excellent choice.
US Products Features
Hose Reel — Patent pending, integrated 25′ vacuum & solution hose reel for simple hose control.
Smart Circuit Locator — Quickly detects separate lines to get rid of blown circuits.
Heating unit — In line, after the pump designed for longevity as well as immediate heat up to 212° F, life time warranty.
Low Solution-Fill — Solution fill location placed low for convenient bucket fill and much less back tension
Low Moisture Process — Much less water (coupled with greater heat) indicates quicker drying, a lot less possibility of shrinkage, as well as significantly less wicking from the pad.
Vacuum Manifold — Improves productivity when utilizing 2 vacuum motors in sequence.
Tanks & Bodies — Light-weight, rotationally formed with life time warranty towards fractures, leakages, and also dents.
Cord Wrap — Could Support to as much as 50 ft of 12/3 electrical cord.
Dual Surface — Set for 1200 psi for Hard Floor cleaning or Instantaneous 212° F for Carpet Extraction with Hot Water at 150 psi.
Power Prime System — Foot controlled valve for simple priming.
Automated Dump — 5.5 gallons each minute using Electronic Shut off.
Specifications and Features of the King Cobra 1200
Hose Reel
25' High Pressure Solution Line and Crushproof Vacuum Hose
7.2" 3-Stage Vacuum
140" Waterlift
Ball and Float Shut-off
Positive Displacement, Fully Adjustable 0-1200 PSI Pump
Instant 212° F, 2000 Watt Inline Heater
Smart Circuit Locator
Low Moisture System
16 Gallon Solution Tank
14 Gallon Recovery Tank
Convenient Low Solution Filling Area For Easy Filling
Auto Fill
Power Prime System
Auto Dump with 5.5 gpm Electronic Shut-off
Chemical Tray
Two Handles For Easy Maneuverability and Loading
Wand Caddy for Easy Transport
Dump Hose, 22" Height
10′ Non-Marking Locking Wheels
Cords: 2 Each Detachable 12/3 Gauge, Hospital Grade Plugs
Stainless Steel Pre-Filter
Dimensions: 36"H x 21"W x 39"L
Retail Price: $4,885.32
| | | |
| --- | --- | --- |
| Description | Retail Price | Rotovac Price |
| | | |
| King Cobra Pro Machine Only | $6,808 | $6,127 |
| | | |
| King Cobra Pro & EV Wand | $7,402 | $6,662 |
| | | |
| King Cobra Pro & Turbo Hard Tool | $7,960 | $7,164 |
| | | |
| KC Pro W/ EV Wand & Turbo Tool | $8,553 | $7,698 |
Call 1-888-768-6822 for pricing
Request More Information: